Best Ocean Tarpon Fishing in Costa Rica
Many fly anglers dream of catching a large adult tarpon, and Costa Rica´s northern Caribbean coast is one of the best locations on the planet to tick this incredible fish off the bucket list. The coastline consists of sparsely settled rainforest and lagoon systems, where dark volcanic beaches host massive annual sea turtle nesting events and serpentine rivers slowly wind their way through the verdant jungle towards the sea. The bocas, or mouths, of these rivers form rich ecosystems for many predatory fish, including snapper, jacks, and of course legendary numbers of prehistoric tarpon.
The mind-blowing numbers of huge sábalo real (local name for tarpon) congregating at these river mouths to feed on the flushing baitfish have attracted hordes of trophy hunting fly anglers for decades. Famous lodges like Casa Mar on the Rio Colorado brought some of fly fishings pioneers, including Lefty Kreh, Flip Pallot, Billy Pate, Mark Sosin, Stu Apte, and many others, but as interest turned to other saltwater destinations around the world, lodges saw their clientele drop. The buildings, formerly filled with the laughter and stories of world traveling fishermen, turned derelict, and the unforgiving jungle slowly engulfed the land once again.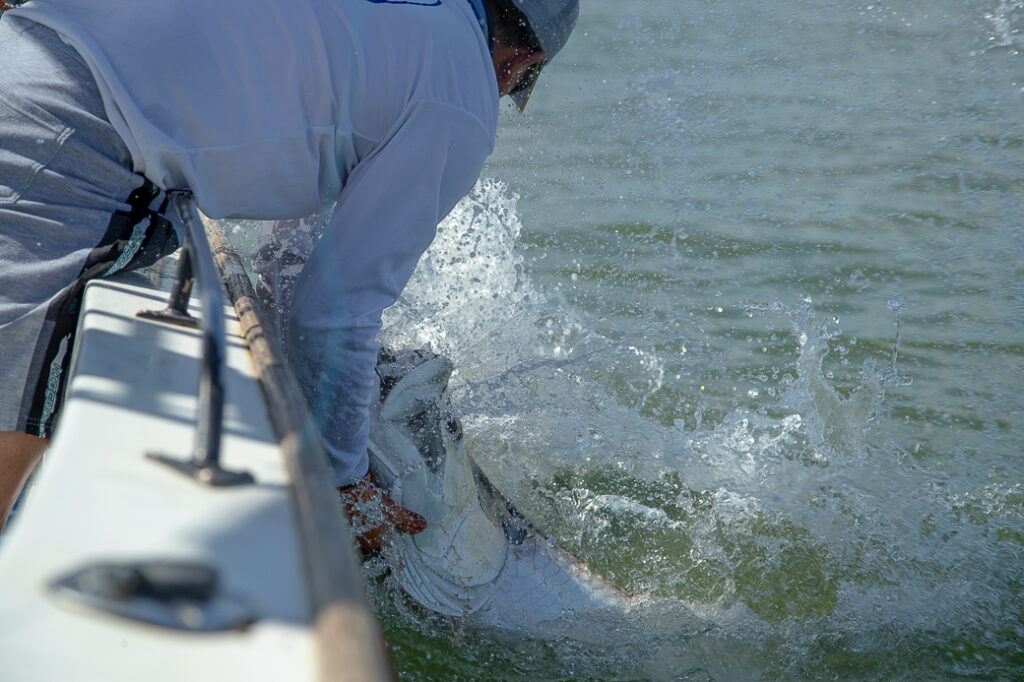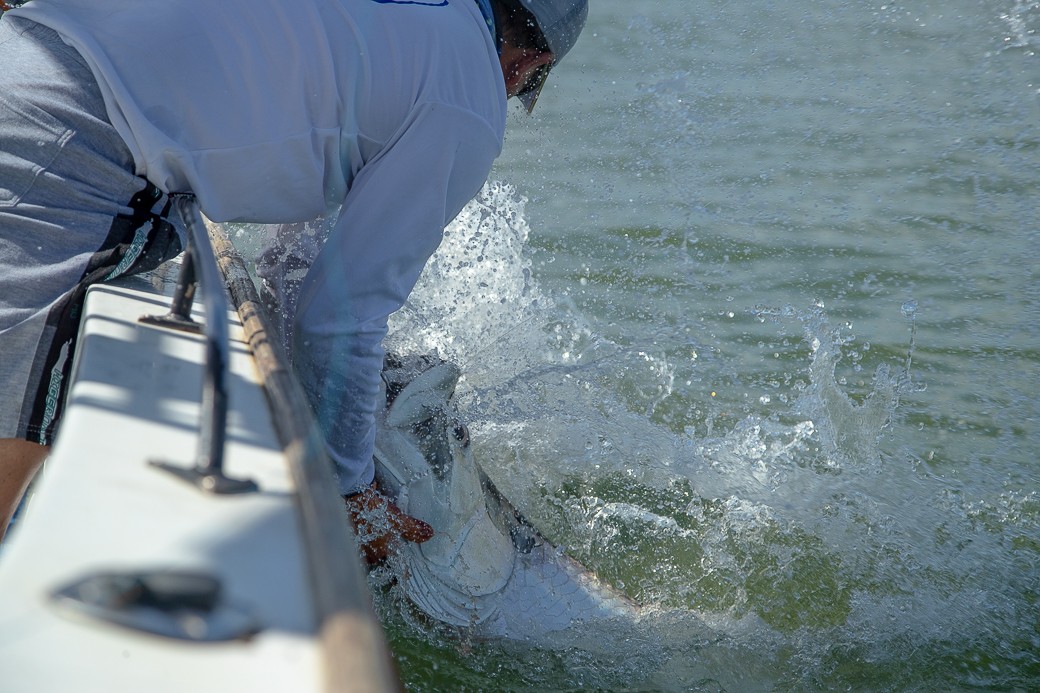 Fast-forward to today, and we are excited to announce the launch of our new lodge operation located within minutes of the world famous boca of the Rio Colorado, the Rio Colorado Tarpon Club. While the fly fishing world seemingly forgot about this tarpon hotspot, the massive schools of tarpon continued to amass here like nowhere else on the planet.
We invite you to join us at the Rio Colorado Tarpon Club. Help us bring back this once celebrated fishery to its former glory as you follow in the footsteps of some of fly fishing's biggest names. You'll likely never see more tarpon in your life! This is a must experience trip that you'll never forget!!
FISHING

What is Tarpon Fishing like on the Rio Colorado?

There is a reason that generations of fishermen have flocked to this legendary tarpon destination. The sheer numbers of giant tarpon on the Rio Colorado on the northern Caribbean coast are simply remarkable. At key times of the year huge schools of adult tarpon congregate in various river mouths like the Colorado, where they engage in mass feeding and migratory behavior. This river in particular is world famous for incredible numbers of tarpon, and while new tarpon destinations in Cuba and Nicaragua have gained notable reputations in recent decades the fishing around the Rio Colorado and several other rivers in close proximity has remained some of the best for adult tarpon.

To offset the ocean fishing (or to just give arms, backs, and legs a break from battling massive tarpon), anglers are also encouraged to spend a day exploring some of the incredible lagoons fishing close by. Trade in the heavy rods for lighter 5-8 weight rods and chase a variety of exotic tropical species, including snook, snapper, jacks, machaca, and colorful cichlids like the rainbow bass (guapote), jaguar guapote, and black belt.

Groups of maximum 10 anglers set out each day to explore the many wonderful fishing opportunities nearby on the oceanside and in the lagoons. We fish 2 anglers per boat to ensure plenty of room for casting, fighting fish, and experiencing what this place has to offer. Boats are extremely seaworthy and "fishy" locally made center consoles, each complete with T-Tops to provide some shelter from the elements. Each vessel comes with an experienced bi-lingual local captain. While we don't always have 5 English speaking guides on site to complement the skilled local captains, we try to have at least 1 for every 4 clients. We rotate these guides throughout all the boats during the course of the week to provide additional hands-on learning.
SEASON

Tarpon Season at the Rio Colorado Tarpon Club
LODGING & FOOD

Lodging & Food at the Rio Colorado Tarpon Club

The Rio Colorado Tarpon Club is a private, family-run lodge right on the water and surrounded by a beautiful garden and lots of wildlife. This is very much a throwback to some of the famous tarpon clubs of the past. Emphasize is on world-class tarpon fishing, safe and comfortable no frills lodging, and terrific local cuisine served at our private on-site restaurant. While the accommodations are simple, the proximity to the fishing grounds means anglers don't miss a beat. The run is only about 10 minutes. Groups of maximum 10 anglers are spread out amongst several 2 and 3 bed cabinas complete with AC and fan. The on-site restaurant serves some of the Caribbean's most delicious Afro-caribe meals. The desserts are to die for!
Itinerary Breakdown at the Rio Colorado Tarpon Club
DAY 1 – Saturday
• International arrival in San Jose, Costa Rica (SJO)• Lodging at accommodation of choice (accommodation recommendations available upon booking) • Lodging & meals not included
DAY 2 – Sunday
• Anglers are picked up by a private shuttle for transport to the Rio Colorado Tarpon Club very early in the morning. Transportation time is roughly 4 1/2 hours. (Charter flights available upon special request. Subject to availability.)
• Upon arriving the Club anglers are met with lunch before heading out for an afternoon of tarpon fishing.
• Lodging at the Rio Colorado Tarpon Club (double & triple occupancy) • Breakfast, lunch & dinner included
DAY 3-7 – Monday-Friday
• Each day starts at 5:30AM with breakfast and coffee.
• Anglers leave around 6AM for their morning fishing session, which lasts until around 11:00AM when anglers return to the Club's on-site restaurant for lunch.
• After lunch there is some down time to relax, or siesta, and get out of the sun during the hottest part of the day.
• The afternoon fishing session starts around 1PM and lasts until dark, when anglers return to the Club for dinner.
• Non-alcoholic drinks and water will be provided for each fishing session. You'll find this onboard your boats in the Yeti coolers.
• Lodging at the Rio Colorado Tarpon Club (double & triple occupancy). • All meals provided on-site.
Day 8 – Saturday
• Morning fishing session until roughly 10AM, at which point anglers return to the Club to prepare for their private transport back to San Jose. Anglers are served lunch before leaving. Just like the way in, the transportation time is about 4 1/2 hours.
• Lodging at accommodation of choice (accommodation recommendations available upon booking).
• Breakfast & lunch included. Lodging & dinner not included.
Day 9 – Sunday
• International departure from San Jose, Costa Rica (SJO)