Transformative Learning in the Wilds of Costa Rica
From the Caribbean Sea to the Pacific coast, Costa Rica is packed with opportunities for learning and personal growth. Well-developed infrastructure, a focus on sustainability, and a safe place to travel make Costa Rica one of the most popular destinations for student groups and educational tourism in the entire world. There's something here for any focus. Biology? Costa Rica is one of the countries with the highest biodiversity in the world, with over 500,000 species calling it home. Aspiring geologists will be fascinated by volcanoes such as Arenal, Irazú and Poás, and Spanish learners will love the opportunity to converse with friendly local Ticos. Cross-culture exchanges provides students and young people with the ability to step outside of their comfort zones and into the lives of others. Overall, travel has the opportunity to become transformative, and Fly Fishing Costa Rica takes pride in providing these experiences to help expand the minds of young travelers and future world nomads in a safe, dynamic, and enriching environment.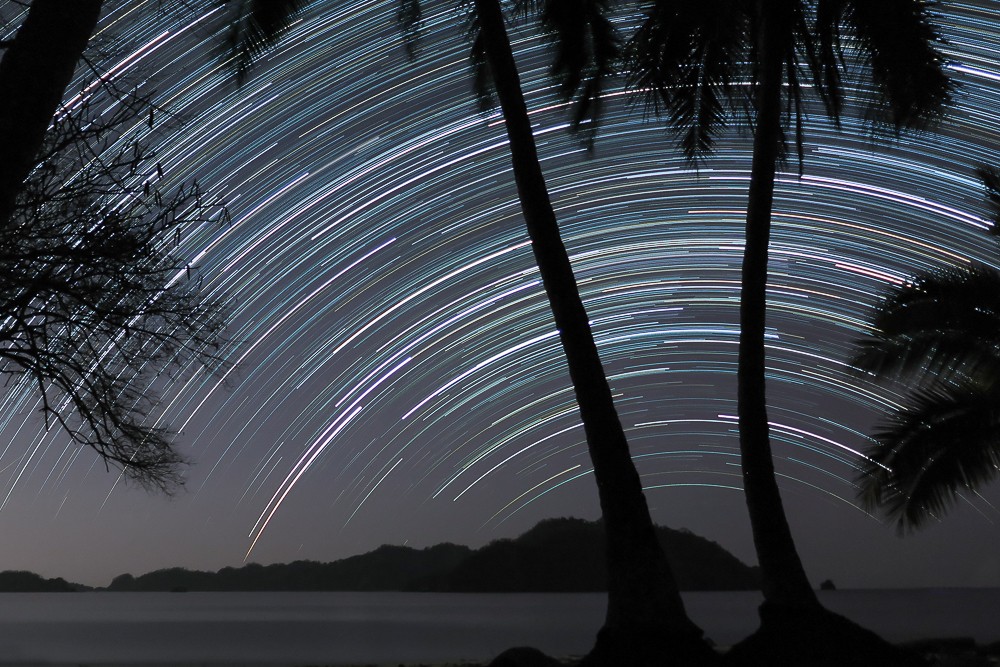 OPPORTUNITIES FOR LEARNING THROUGH TRAVEL – CUSTOM CURRICULUM

Customized Transformative Learning in Costa Rica

As educational tourism can be highly specific, it's best to contact Fly Fishing Costa Rica and let us help you develop a personalized itinerary that best fits both the budget and goals of the trip. For example, universities looking for a curriculum based upon tropical ecology might begin inland, searching for jaguars and exploring the biological niches found in the humid Caribbean rainforests, before traveling west and studying the competition between organisms in the tidal zones of the Pacific coast. Groups that want to focus on the culture of Costa Rica might see the process of organic coffee farming, the production of local cheeses, or examine the architecture of the historical buildings in San José. 
EXPERIENCED TRIP LEADERS

Leading Student Groups in Costa Rica

Your hosts at Fly Fishing Costa Rica do more than just fish. Tom Enderlin is an accomplished naturalist, with expert knowledge on the wildlife and microclimates of Costa Rica. Years of experience also make him an excellent reference for any questions on the culture and customs of Costa Rica. Kevin Jackson holds degrees in both biology and chemistry, and worked as a field biologist for over ten years before making the move south. Educating and sharing our knowledge is a tenet of what Fly Fishing Costa Rica aims to provide.
SEASON

Seasons for Student Travel in Costa Rica
LODGING & FOOD

Lodging & Food on Your Trip to Costa Rica

Costa Rica's focus on international tourism provides an almost overwhelming number of places to stay and visit. Lodging options can range from simple hostel bunks at one of the country's many eco-lodges to hotels with sweeping views of the Pacific. Local knowledge is invaluable, and Fly Fishing Costa Rica can provide you the best possible service with planning and operating your visit. We have extensive contacts with hotels throughout the country, a network of professional drivers who can provide premium transportation, and our experience with the best local restaurants always comes in handy! 
Example Student Travel Itinerary Breakdown
"The Journey of Water" – Fish for Change
This is one of the exciting trips we offer in partnership with Fish for Change. To compliment the activities, our leaders focus on engaging students with thoughtful and inspiring conversations and writing about water, how this journey is a metaphor to how water travels from the sky to the sea, our role in water conservation and climate change, and how connecting with local people shows that we are all responsible for the future of our planet, amongst other topics.
DAY 1 – Arrival in San Jose, Costa Rica (SJO), transport to hotel in San Jose, Welcome Dinner
DAY 2 – Early morning transport to one of Costa Rica's highness points at 11,500 feet Cerro de la Muerte (Mountain of Death), hike down and through the paramo and cloud forest to local community, afternoon wild rainbow trout fishing
DAY 3 – Wild rainbow trout fishing in UNESCO Biosphere River Reserve
DAY 4 – Option 1) Hike from neighboring rural community following the river though the cloud forest, or Option 2) Tour of organic coffee farm in Tarrazu, afternoon transportation to north-Caribbean foothills
DAY 5 – Machaca float trip, afternoon transfer to Jungle Tarpon Reserve
DAY 6 – Jungle tarpon fishing, jaguar camera trap and other wildlife studies, bird watching activities
DAY 7 – Jungle tarpon fishing
DAY 8 – River cleanup & Tree Planting, afternoon transfer to San Jose, Farewell Dinner
DAY 9 – Departure from San Jose, Costa Rica
For more information about this specific program and other great programs around the world, check out Fish for Change.
Itinerary Fully Customizable to Match Individual Needs
Partnership Spotlight – Fish for Change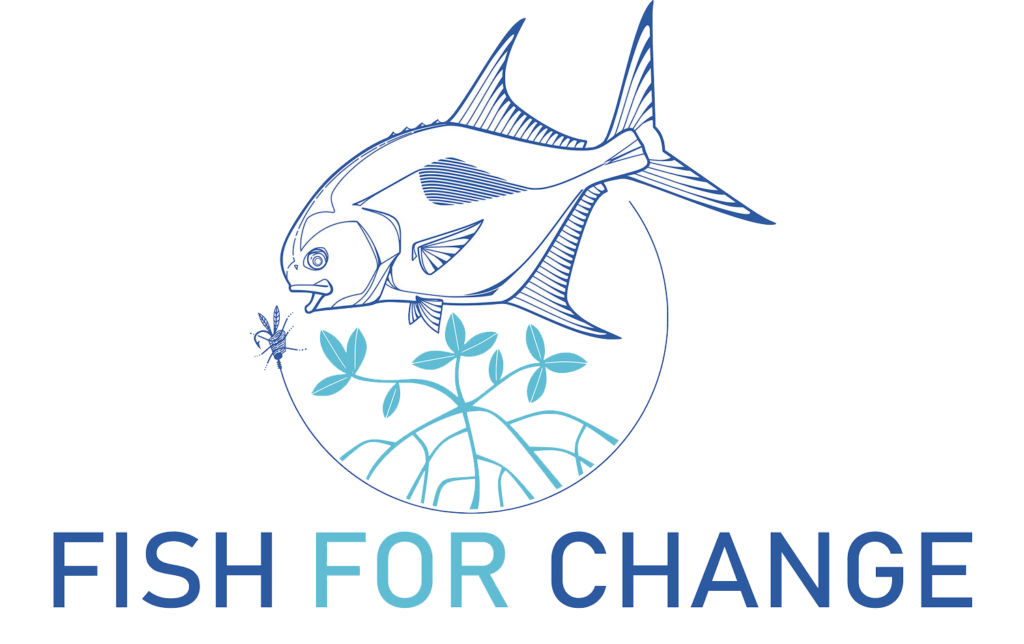 In 2021, Fly Fishing Costa Rica hosted a pilot program with Fish For Change, an educational group that focuses on transformative educational tourism via fly fishing and community service. Over the course of the pilot, two separate student groups visited Costa Rica and traveled throughout the country. Each program was individually designed to meet specific goals. One program titled The Journey of Water tracked the movement of water in Costa Rica- vapor at high elevation turns to rain, which flows through the mountains and ends up at the sea. The students started in the clouds of one of Costa Rica's highest peaks, hiking their way through the high-altitude scrubland into the cloud forests below. There they found clear mountain streams teeming with rainbow trout. A focus was made on describing the ecology of the cloud forest, from the epiphytic plant life in the branches to the aquatic insects present in the streams. The group then went further down the watershed, exploring geothermic hot springs and experiencing local culture along the way, before finally ending up in the Caribbean lowlands. The Journey of Water provided both educational and transformative tourism- while the students learned about the world around them, they also learned about themselves. Tarpon and Jaguars had students working with one of Costa Rica's rural communities in the heart of the lowland rainforest. An invaluable biological corridor, the students had the opportunity to place game cameras, observe jaguar footprints, and plant trees while surrounded by reptiles, monkeys and birds. Over ten individual jaguars have been captured on film by Fly Fishing Costa Rica, and each student had a part in helping to identify and track these amazing creatures. All of this while surrounded by some of the best tarpon fishing in Central America!
Based upon the success of this pilot, four new groups were scheduled for the 2022 season by Fish For Change. Fly Fishing Costa Rica can help develop a program for any school, university or organization. Please contact us to see how we can help.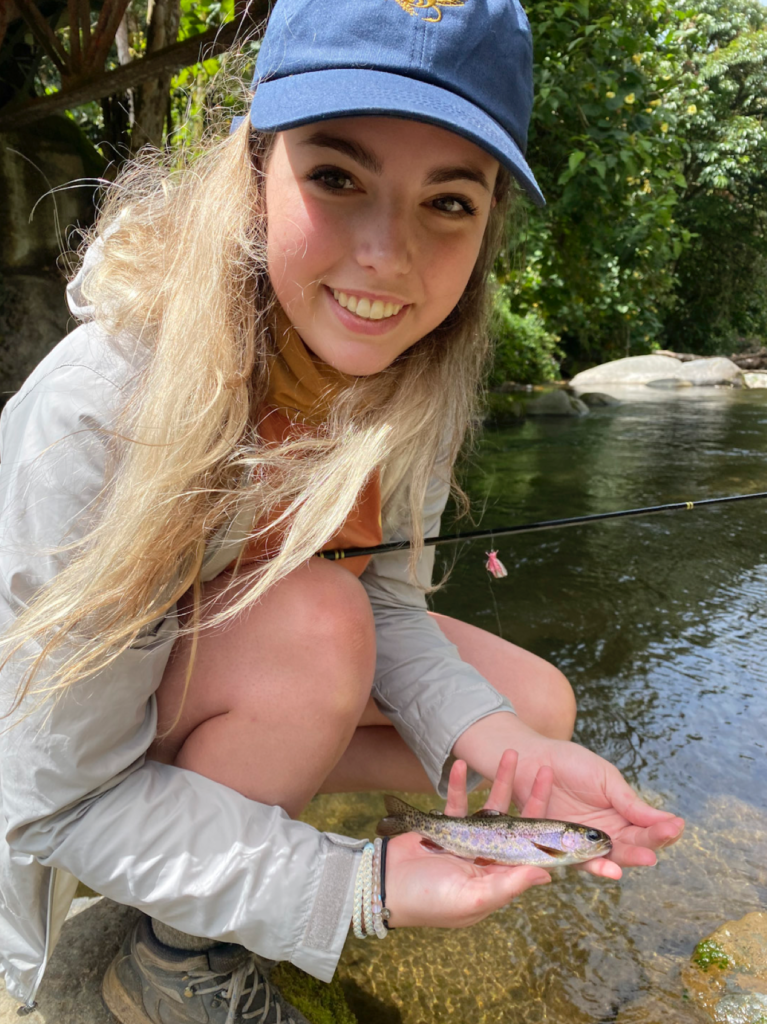 Trips Available Around Costa Rica